The Matterhorn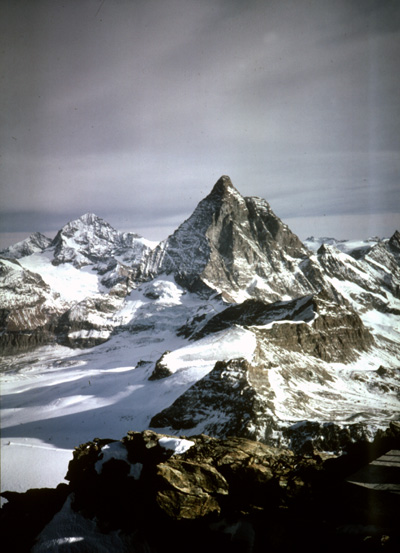 In my hometown of Aransas Pass, Texas, we never knew such snow conditions or such mountain ranges. The Alps are literally breathtaking to view from any perspective. This view is taken from the Zermatt side of the mountains bordering Italy and Switzerland.
Only experts dare climb it and skiing it is certainly highly dangerous. But I guess some people do it anyway. In the summer when there's no snow it is a popular climb.
Cervinia is set among glaciers with its highest elevations of 11,472 feet. Slopes have vertical drops of 4,730 feet.
Needless to say I neither skiied nor climbed the Matterhorn. There were many excellent ski slopes surrounding it to make the ski venture worthwhile. I would rise early in the morning, get on the first lift from Cervinia to the top. I was usually alone because most of the other skiiers were still passed out in their lodges.
Out of the cablecar I'd find myself looking out over a vast range of snow covered mountain peaks rising between puffs of white clouds, stretching as far as the eye can see. The air was pure and absolutely quiet. As I began the descent only the soft swooshing sounds of the skis on the snow reached my senses. What a marvelous experience. Each time was like the first time.