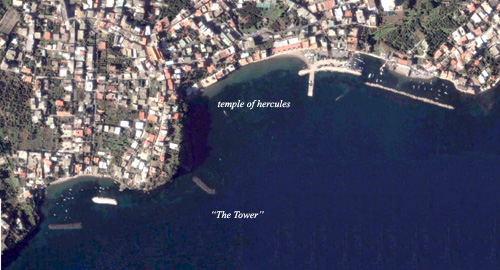 Copyright © 2006
ALL RIGHTS RESERVED
The Lost Temple of Hercules
In the 1800s, historian Carletti described the architecture of the lost temple as "Doric order similar to the temples of Pesto (Paestum)". He further noted the presence of a marble statue representing Hercules leaning on a club draped with the skin and head of a lion.
The cluster of structures includes a tholos that is connected by a narrow corridor to a larger rectangular building. The tholos has an inner diameter of 8 meters in a perfect circle.
A large slab of white marble remains cemented in place where corridor ends in the rotunda. It would appear that the entire circular floor was finished in white marble. Near the center of the rotunda is a small base, still cemented to the concrete bedding.
The height of the Roman rotunda is the same as the diameter of the cylinder. That means that the dome building would have stood approximately 9 meters high, depending on the thickness of its dome roof.
Only about 20 meters away, on the edge of what must have been the ancient water's edge, a massive building foundation rests in 4 meters of depth. This structure shows dimensions and architectural features that only a very large, important building would have had. The shape is long rectangular measuring about 50 meters on the long side. This is the side that faces the bay.
There is a square projection of the foundation that extends 4.5 meters out from the leading edge. The floor exhibits collapsed ducts, apparently built into the floor for allowing circulation of water for heating or bathing. These appear as grooves and 20-30 centimeters in width.

Stone Anchor
The anchor found among the Bacoli ruins is apparently a limestone monolith measuring 2 by .75 by .50 meters. A single round hole with a diameter of
.25 meters is bored near one end.
It is this type of anchor that would be used to anchor a boat in shallow water where the sea bottom is hard or rocky. Apparent weight and dimensions of the Bacoli anchor suggest that it was perhaps designed for a boat that would be at least 10 meters long in order to carry this anchor load.

Brick Aqueduct
Also present in the marina basin is a string of mortar slabs with arcuated ducts through them. The slabs are aligned in a straight line between the temple ruins and the base of Cento Camerelle cliffs.