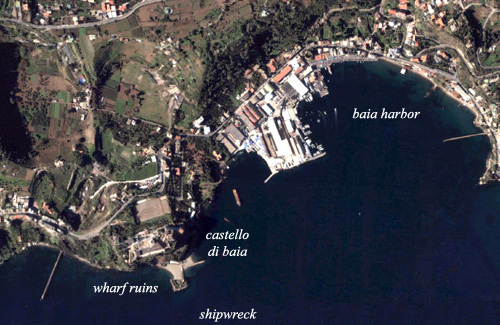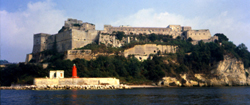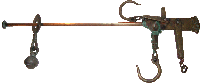 Copyright © 2006 ALL RIGHTS RESERVED
Caesar's Palace
Caesar's palatial villa stood on the hill where the Aragonese Castle now stands.

It was the Spanish Viceroy's decision to build the castle directly atop the ruins of the historically important villa. It is thought that Agrippina's actual resting place was in the immediate vicinity of Caesar's estate. It too disappeared as a result of the castle's construction. What ever other scattered ruins were left of the villa after castle construction later sank with the shoreline.

There are no visible remains of either Caesar's villa or Agrippina's actual tomb. However, on the shore just below the castle can be seen traces of richly worked opus reticulatum walls from building construction that aren't consistent with the castle's architecture or its building
materials.

Further into the gulf directly out from the castle are a number of other interesting ruins. A series of mortar pavements or decks, smoothly finished and geometrically shaped, lie along the bottom to about 100 meters from shore. At 50 meters from shore there is a long, thick embankment that runs parallel to the beach. At 100 meters from shore there is a second similar embankment but at slightly greater depth. In a few places the mortar floors collapsed exposing built-in ducts about 30 centimeters square that run from the shore out into the bay. The two ducts converge at the second embankment then split into 3.

A row of 3 massive brick and mortar pilasters measuring 5 by 5 meters of surface area and about 3 meters high are located 100 meters out into the gulf starting from the second embankment. The pilasters are in a straight line at 10-meter intervals and in depths ranging from 6 to 10 meters. These are presumably breakwaters for the original Baia port district. They are finished in precision opus reticulatum and opus quadratum brickwork.

Shipwreck
On one of my usual bay rounds in my inflatable I found a modern shipwreck. It was a 75 foot fishing trawler. It lay in 35 feet in the main ship channel just below the castle.

It was fully intact, showing no hull damage, and still loaded with nets, equipment, tools, crew accessories. The hull number was not present.