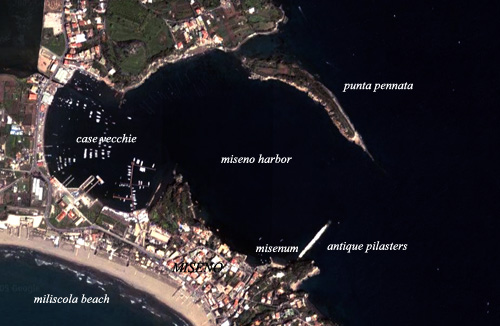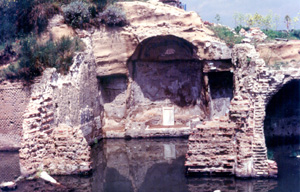 Copyright © 2006 ALL RIGHTS RESERVED
Misenum

Lucrinus Naval facilities created fears that decreasing depths could immobilize the fleet in an emergency, and that the basin would become too awkward for training and maneuvers. The Roman senate made the decision to form a new fleet (Clasis Misensis) and to construct a totally new base at Misenum. Again, the brilliant and loyal military engineer Agrippa was set to another challenging task.

Augustus established a new colony at Misenum in 31 B.C., and naval construction projects resumed during 31-29 B.C. Agrippa took full advantage of the two Miseno basins. By natural design both basins were at the same water level. The port was comprised of these two basins: the outer basin which is called Case Vecchie ("Old Houses"), and the inner basin that is known as Maremorto ("Dead Sea").
The ruins at Punta Sarparella include those of the pretorium, logistics facilities and warehouses. In the waters around Miseno are ruins of military barracks and munitions facilities. Also nearby are water reservoirs including Piscina Mirabile, Cento Camerelle, and Grotto Dragonara. Cemeteries of foreign soldiers were found at Capella, Bacoli, and Miliscola. For observation towers existed at Monte di Procida. For navigation lighthouse beacons at Bacoli and Miseno provided direction for shipping.
When the water is clear, pylons erected to protect the two basins are visible. These consisted of two enormous wharfs. The first is 180 meters long with a double row of pylons. The second is 100 meters long formed by a single row of pylon.
Numerous column fragments are found at shallow depths a short distance from the port entrance. These are thought to be remains of a temple because of the structure's apparent design. Other marble works recovered from areas surrounding this site in 1980, could very well pertain to this site as well.