To Climb Mount Fuji
Raul Botello Jr.
USS Ajax AR-6 (1976-80)
Arrival in Japan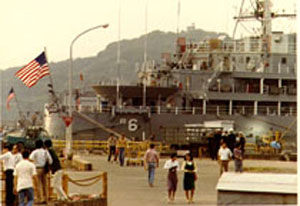 "Moored!"The ship's voice horn blared. It was toward the end of August 1976. The weather was still warm and bright from what must have been a long hot summer in Japan. USS Ajax, the big, gray repair vessel that brought us from San Diego, was now secured in the moorings of Yokosuka, Japan. The sea was calm; the clear blue harbor water shimmered with bouncing flashes of sunlight. There was a lot of commotion on deck as sailors scurried to secure the ship to the wharf using huge ropes and lines.

This was my first travel experience to this part of the world. Previously I'd traveled to South America and Europe. But this was my first time in the Far East.

Standing on the deck of my large Navy repair ship I watched linesmen rapidly and efficiently securing equipment on the pier. There were clattering and clanking sounds of metal objects striking metal fixtures. My nostrils caught the aroma of burnt diesel fuel. This was pretty much like any other seaport except that ours was the only American ship in this harbor at this moment. The rest were Japanese destroyers and submarines.

"It's a damn good thing that war with the Japanese is over…if not we're all sitting ducks right now," I mused to myself with a chuckle. The people I saw along the wharf were most all Japanese going about their affairs of the day. They walked about briskly and with clear intent.

Across the port harbor loomed the metal skeleton of a large ship under construction. Hundreds of Japanese workers seemed to crawl over the underway structure like busy ants building a mound. They seemed to work in unison, as if orchestrated by a musical conductor. I found this sight very interesting. I looked forward to going ashore and meeting the local people.

Before any of us could go ashore there would be an orientation briefing by our shore counterparts. They told the do's and don'ts of Japan, some of its attractions, and how to get around. They were quick to point out that the traditional Geisha girls were a thing of the past, now merely a historical landmark of what Japan once was.

The representative Special Services representative explained what recreational facilities and activities were available. He mentioned also that the following Saturday Mount Fuji would be open for one last ascension before closure for the upcoming winter. Mount Fuji is considered safe to climb only during the warm months of June through August.

Forty of us quickly signed up. I knew that the Fuji of fable and myth was a place of religious significance to the Japanese and it was certainly famous throughout the world. This would be a one-time opportunity in my life to experience the adventure of this mountain. I knew it would be totally unlike the Andes or the Alps. Without further thought I knew I had to go.
On the road to Fuji

Our group gathered at a tour bus that following Saturday morning. We had been instructed to take along a heavy jacket or parka and bring only a few snacks to minimize our burden.

Traditionalism in Japan is the culture and the culture is traditionalism. One is the medium and the other is the message. A delicate balance exists between the old ways and the new. The new is a mixture of old values and new values interlaced to form one. There are vast contrasts but no conflicts. Protocols are at every social level and these are most highly respected.

At every turn I found the Japanese fascinating, friendly, with a holy politeness. They offered help when it appeared to them that you needed it, even though you hadn't asked for it. You might not be aware when you need the help but the Japanese. They're there to help you. They went out of their way on several occasions to help me. Japanese mannerisms had been discussed at our briefings but not until I stepped on Japanese soil could I begin to savor its sincere and delicate style.

The Japanese are by nature very curious about western ways and ideas. Westerners on their pavements stand out like sore thumbs and the Japanese politely approach them. On various occasions both men and women walked up to me wanting to start a conversation in order to practice whatever foreign language they were in the processing of learning. English, French, German, and Spanish were languages they most often used to greet me, perhaps in the hopes that I spoke one of those. One lady amazed me with her perfect Andalusian Spanish. I've lived in Andalucia many years myself. I was convinced after only a few utterances that she had lived there too. It turned out she'd learned simply by listening to Japanese radio Saturday morning language lessons.

Another national fervor in Japan was the Dallas Cowboys (perhaps still is). Every Saturday night they would air Cowboy games live on television as well as re-runs. Football was the equivalent of the Dallas Cowboys and vice versa. So, the only games aired were those in which the Cowboys played. It was that simple.

After several hours of narrow, winding highways we finally arrived at the village from which the trek was to begin. Customarily, trekkers first visited a public bath to take a relaxing soak before the climb. We stepped into the steamy chamber where unclothed (naked actually) elderly people sat in the two-foot deep hot water. The steam brought sweat beads to my face. I was slightly disillusioned at the absence of those pretty young ladies lolling nude in the baths that I had seen in travel brochures. Nonetheless the hot tub was terrific.
Let the climb began
The time had come. We gathered at the base of the mountain for our cultural assault. We counted our group. There were 45 of us from the ship. Our guide, a young American from Special Services, was witty and cheerful. He explained that today we'd climb about 85 percent of the mountain, rest in a shelter until midnight, then continue to the top to meet the sunrise. We were also advised to always stay on the trail. That seemed reasonable to me. I purchased a climbing staff at the shop. They were sold with a small Japanese flag. Climbing would be a lot easier with this staff.

At 9 a.m., we started our ascension in a single file. One item of note: not a tree or bush in sight anywhere on the sides of the mountain, instead many jagged lava stones and ash. The narrow, winding trail was packed hard but along both sides of the trail there was only the very loose granular ash.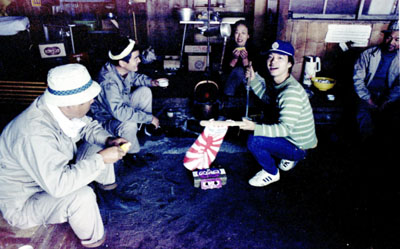 After a few hours we reached a lean-to shelter. Inside Japanese caretakers huddled around a fire. The guide told us that one of the caretakers was an artisan who burned people's names on their climbing staffs with a branding iron.
Of course, the guide emphasized, "He does this only for special people or guides, like myself." Upon hearing this, I immediately walked over to the craftsman and politely asked him if he would burn my name on my staff. He gave me a large, friendly smile and graciously took the staff from my hands. In a few minutes he'd burned my name and handed it back to me. I smiled back and tried to give him some money. He refused to take it.
Our guide was somewhat taken aback by this episode since he had just told us that this man would do poles only for certain significant people (like himself). I felt flattered. This was to be only the beginning of a series of memorable human pleasantries on Mount Fuji.

After this brief respite, we continued up the mountain. It didn't take long to figure out why the guide had told us to keep on the trail and stay in a single file. A couple of faster climbing companions behind me decided to go around to gain more ground. They made the mistake of stepping off the hard trail. There was an immediate "swoosh" as the two suddenly found themselves sliding down toward the base of the mountain. It took them only a couple of minutes to reach the base after it had taken several hours to get up to where we'd climbed. Fortunately they weren't hurt. They waved at us as they jaunted back to the bus. They weren't about to restart the climb and try to catch up with us.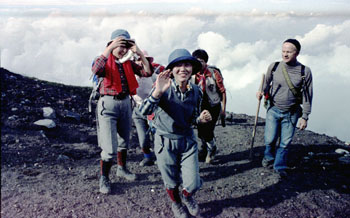 It was a sunny and beautiful day. A group of young Japanese university students were hiking in a group ahead of us. Our groups merged briefly. They warmly greeted us in the best Japanese while we chatted and greeted them in our best English. Although they didn't know English, they seemed eager to converse and exchange whatever thoughts they could. They conntinued on ahead of us.

As I trudged along at a leisurely rate while trying to keep up with the pack, it seemed to me that it wasn't all that bad, so long as you observed the rules. Every so often another of our members would be seen on his back, flailing wildly in a dust cloud as he was being carried rapidly by pumice grains down to the base. "Oh, well, just another guy who took a wrong step…" I though to myself.

I thought about how difficult this climb was up until now. Then, I was shocked to see an old, thin, frail looking Japanese man carrying a box full of canned provisions up to the shelter. He climbed along a parallel trail, which was a good thing because he passed us up as if we were stopped. Not only that, he looked to be at least 75 years old. That was incredible!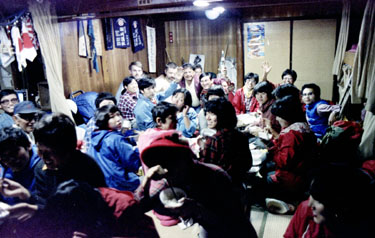 Finally we reached the shelter. I had expected to see some sort of comfortable lodge with accommodations. Instead it was a simple wooden shack without insulation and looked dilapidated. But, it did feature a wooden floor, wall to wall. That was great because there weren't enough beds or bunks for all the boarders. It would be every person for himself in whatever space they could find on the floor.

The sun was starting to set. There was lighting but no food other than what you carried yourself. Inside we found the group of Japanese university students. They had reached the lodge shortly before us. We all milled around and quickly found a lot of warmth and friendliness among the students. The floor was covered with straw mats. We sat among the Japanese and took out our snacks. I found myself offering some candy to some of the students. It felt like quick but sincere friendship. As the minutes passed I noticed more and more of the students gathering around me with smiles on their faces.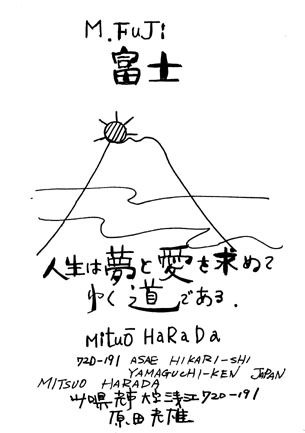 One young fellow noticed my sketch pad and asked me for it with gestures. Without hesitation I handed it to him thinking he would keep it. Instead he quickly sketched a picture of Mount Fuji in black ink, signed it with his address and gave it to back to me. What a touching gesture he bestowed on me!

I realized that in the center of the floor a space had cleared leaving on the matted floor, as if for some sort of ceremony. Looking across the room I caught the sight of a male figure that must have been the leader of the group. He sat rigidly on his crossed feet with arms crossed. His eyes were fixed on me in a friendly way. I smiled and nodded. He spoke to me as if he spoke to everyone around him as well. I couldn't understand anything he said; I knew no Japanese just yet. I kept smiling and nodded.

One of my companions apparently knew some Japanese. He leaned over my shoulder from behind me and said, "He's calling you the elder, he's calling you the elder…" I was truly flattered but didn't know how to explain to him that I was neither the oldest nor the highest in rank in our group.

Then, in a swift gesture that seemed orchestrated, four small female students stood up and came over to me. They pull at my hands and led me to the center of the circle. I felt pleased at the royal attention they were giving me but was still puzzled as to why. The girls laid me down on the straw mats and began to rub my body with their small, delicate hands. They reached up inside my pant legs to massage my thighs and calves, down inside my shirt sleeves to massage my arms, then turned me on my stomach and walked on my back and spine. "Am I in Shangri-La?", I thought to myself.

For those brief magical moments I was literally the center of attention for reasons I still don't understand. They had chosen me. It was like a ceremony or ritual of some sort bestowed upon someone they didn't know or expected to ever see again.

Between their group and mine there were at least sixty people. We tired and eventually went to sleep. There were heaps everywhere. The entire floor was completely littered with sleeping bags. I too became very tired and slept soundly.

Precisely on the hour at midnight there was the hustle and bustle of people waking and donning equipment. It was the moment of reckoning. The remaining portion of trek was only a few hundred feet but was the most treacherous because of the grade. The objective of the whole ascent was to watch the sunrise from the top of Fuji. It would take that long to reach the summit from here.

We stepped out of the shelter one at a time. We used no lights. The night air was crisp and clear. The stars seemed to light the way. Looking across the valleys I saw sporadic lights flickering in the distance. But the grade was very steep and tiring.

It turned out that I had overburdened myself with a heavy jacket that slowed me down. As first light began to glow in the twilight, I tried to climb faster in order to reach the summit before sunrise. I also observed that my good friend and I were the last of the group.

At the summit
We reached the base of a walkway carved into the last segment of the climb. At the top of the ladder was a Tora gate, which was the summit. My friend decided not to climb the remaining steps. I never could understand why. After all, we'd struggled so much together to get this far. I continued up the steps and reached the summit just as the bright sun began to break over the horizon. It was a fantastic sight.

I was disappointed to be the last of our group to reach the summit but later found out that only about 15 out of the 40 who started made it to the summit at all. The rest had apparently meandered off the trail during the night march and found themselves at the bottom in short order.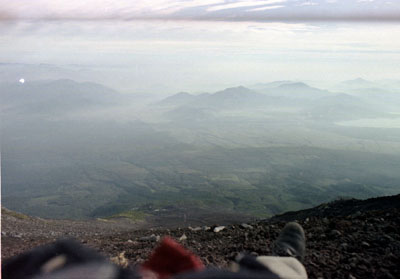 After a brief stay atop the summit watching the spectacular sunrise panoramas and observing the miracle of the sun, we began our descent to the base. The descent was simpler done than said. All you had to do was step onto the loose pumice down trails and you would literally slide down all the way to the base rapidly. That was a real blast. It took about 20 minutes to reach the base. It had taken 14 hours to reach the summit from the base.
A thrilling climax to a marvelous experience between
man and nature!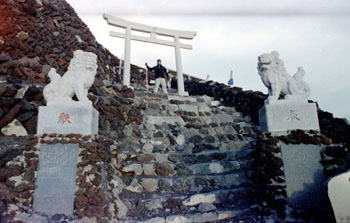 Baia Underwater Archaeology Exploration
Back to Main
E-mail Raul