PHLEGREA
Phlegrea has a continuing history of volcanic activity in which cities have been destroyed and the land reshaped many times over. Phlegrea remains a most desirable place to live owing to its excellent climate, rich soil and natural thermal properties.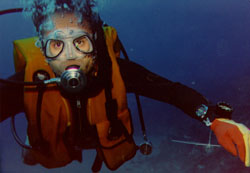 BRADYSEISM
Bradyseism is described, in Phlegrea, as vertical oscillation of the land surface caused by distentions in an intermediate magma basin that exists about halfway between the earth's core magma and the surface crust. The basin is fed from the Vesuvian chamber. Expansion and contraction of the mass result from temperature changes.
ARTIFACTS
The Bay of Pozzuoli has, over the years, returned a marvelous collection of art and architectural masterpieces.
Many of these relics are on exhibit at the National Archaeological Museum of Naples and Castello di Baia.